Oracle Card readings are similar in approach to Angel Card Readings and are conducted using the desired oracle card deck or combination of decks and connecting with Spirit. There are a number of spread options to choose from depending on your chosen time frame and preferred deck.
You can choose the deck to work with or allow Spirit to guide me to choose on your behalf.
There are a large variety of Oracle decks out there, with many various themes based around animals, fairies, unicorns, goddesses and other subjects etc and can provide very accurate readings.
There are many fabulous oracle decks available and some contain cards that state a Yes and No answer as well as straight forward messages.
Oracle Card Readings (just like tarot card readings and angel card readings) are great for any love/relationship specific readings, actually any specific situation of enquiry really.

Oracle Card Readings are available from Ocean Reef, Butler, Fremantle and High Wycombe.
30 Minutes
By appointment only.
Some of the Oracle Card Decks available for readings: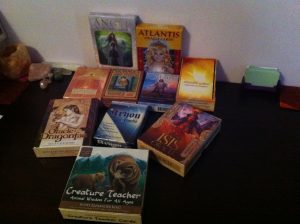 CALL 0410 857 876 OR EMAIL info@tarotreadingperth.com.au NOW!